Quality, Passion, and Integrity
Innovation Since 1965
For over 55 years, Vella Bath & Kitchen has been designing functional and beautiful living spaces for homeowners throughout the Rochester, NY region. Vella understands the importance of our clients' dreams and desires, and brings them to life through our design and construction experience.
The success of Vella has always been the result of the core pillars established years ago: Quality, Passion, and Integrity. A strong commitment to Innovation allows Vella to remain in the forefront. Those fundamental values are shared by all of Vella's employees, and are evident in their daily actions and business decisions. Vella has solid roots to be proud of and a constant eagerness about what tomorrow may bring.
When you have decided to make the investment of a new kitchen or bath in your home, Vella Bath & Kitchen will provide you with the expertise and guidance that only a full service remodeling company can. The design professionals at Vella will tailor a project specifically to meet your needs, desires, and budget.
Through every phase of the kitchen or bath remodeling process you will find unsurpassed innovation from award winning designers, high quality products purchased directly from the manufacturers, and experienced field professionals; all fully employed by Vella Bath & Kitchen and truly invested in the success of your project.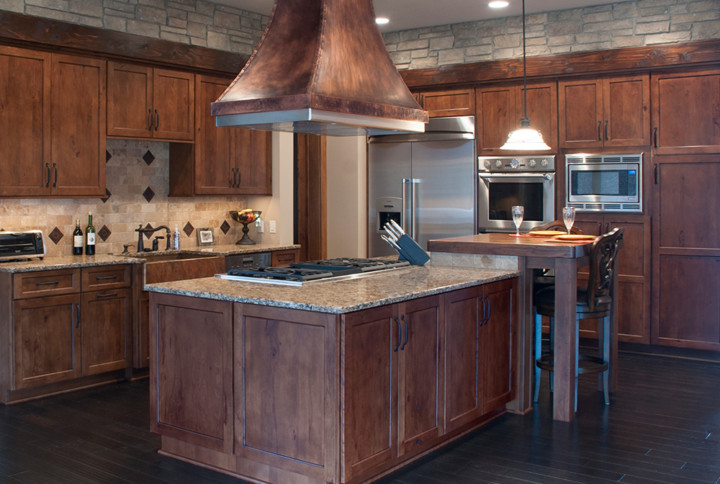 "We knew from our early discussions with you that the level of customer service you offer would be unsurpassed… Your dedication to coming up with just the right solution for our kitchen made our decision to choose Vella an easy one!"
– Todd and Debbie
Our History
Coming to America and succeeding; that is the quintessential immigrant's dream. It was a dream which a young Frank Vella, growing up in a rural Italian village, could never have thought possible. Growing up, Frank learned three core fundamental values from his father, Salvatore Vella, a mason: Take pride in the quality of your workmanship, have a sincere passion for your craft, and do it all with the utmost integrity.
Frank Vella immigrated to America in order to pursue the "American Dream". The journey was made despite only having $100 in his pocket and speaking very little English. However, motivation, principles, building and masonry skills were enough to enable him to provide for himself and eventually a family.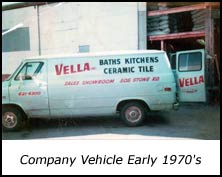 As Frank Vella Sr.'s business grew, so did the need for a showroom, office space, and product diversity. Local plumbing and cabinet distributors were sought, and allowed for kitchen and bathroom remodeling to become Frank's next venture.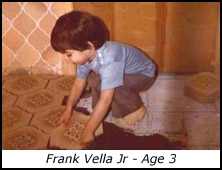 In 1976, the Stone Road Showroom opened its doors in Greece, NY, and Vella Ceramic Tile became Vella Bath & Kitchen. Due to the strenuous work schedule and long hours, family time was limited. In order to spend time with his children, they would often accompany him on the jobs in hope they too, would grasp the trade. Frank Vella, Jr., his only son, did just that. At a very young age, Frank Jr. became interested in the business and eagerly wanted to assist on the jobs and in the showroom.
As the 1980s began, Frank Vella Sr. put his focus into the kitchen market by purchasing materials direct from cabinet and other fixture manufacturers. In turn, they would be sold to some of the area's largest and prominent builders and contractors within Vella's wholesale division. This move also allowed Vella Bath and Kitchen to be more in control of obtaining quality materials at competitive pricing. As the decade went by, Vella purchased a countertop fabrication facility that would further streamline quality, lead times, and pricing.
Having known his future would be in the family business at a young age, Frank Jr. spent his free time after school working and studying the ins/outs of the business. Frank Vella, Jr. joined the organization on a full time basis in 1988. Having grown up in the kitchen and bath industry, Frank Vella Jr. was ready to lend his personal touch to the continued growth and success of the company.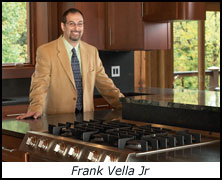 In 1999, Frank Jr. wanted the business to grow and further stand out from the competition. With that vision, a small vacant plaza was purchased on the border of Perinton and Macedon. This new location would include a full custom kitchen, and bath displays, and a new material warehouse.
This expansion led to the integration of full-time remodel employees in 2003. This unique combination of being a kitchen dealer and full service remodeling company positioned Vella Bath & Kitchen to be unlike any other company in the industry. The fundamental belief that Vella does not just sell kitchens and baths, rather it offers its clients a daily opportunity for enhancing their lives, truly transformed the company into one of Rochester's leading kitchen and bath companies.